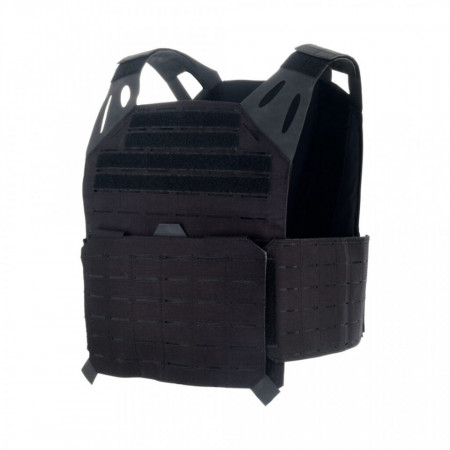 SBA Sark Ultra Lightweight Tactical Plate Carrier
Description
SBA Sark Tactical Plate carrier was designed to be Ultra lightweight yet rugged, and well ventilating - a carrier to help you endure the mission without getting exhausted by added weight or being wet.
Featuring a CORDURA Polyamide 6.6 PU coated laminate cummerbund Platform with Protective 15 X 15 or 21 X 15 cm side plate pocket accommodation and passive Swedish Body Armor COMFORTSHIELD™ ventilation system, the SARK Plate Carrier balances good coverage with very high mobility!

Instead of a heavy Body Armour Vest SBA-SARK Plate Carrier may be much more suitable for your mission.
Our plate carrier is built to be lightweight with all round body Coverage, it weighs just around 650 grams!
The SBA-Sark is an extremely lightweight Carrier that allows you to do heavy physical activity without the added weight.
Suitable for all corner cut standard 25 X 30 cm or 10"x12" plates and has laser-cut laminated CORDURA 6.6 Nylon Molle attachment points. The Hypalon® shoulder straps and pull tabs are low-profile and secure. The cummerbund gives you an adjustable fit and has padded side plate pockets.
The complete Carrier features generous Laser-cut, strong PALS-MOLLE webbing for all MOLLE-compatible pouches and accessories - giving you extra space for your important magazines, grenades or other pouches close to you and action-ready.
SARK PLATE CARRIER Features:
Durable Chaff and abrasion-resistant yet lightweight CORDURA 6.6 Laser-cut laminate construction
Comfortable COMFORTSHIELD™ Channel Ventilation fabric on the body side design that both stretches breathe and dry quickly.
Fully-adjustable PALS Cummerbund and shoulders as well as adjustable Pocked openings for your Front, Side, Back Ballistic plates
Modular, adjustable Cummerbund has an internal side plate pockets,
Full front, Side & back laser-cut PALS platform for all MOLLE-compatible accessories including shoulder and collar pack, Groin protection, and Leg and arm pieces.