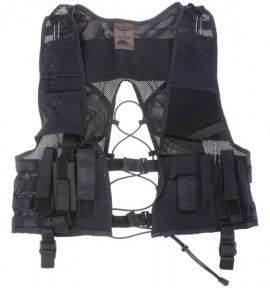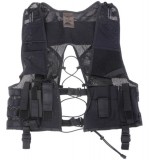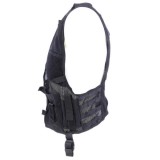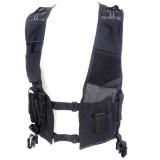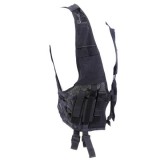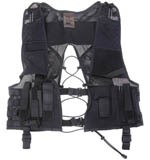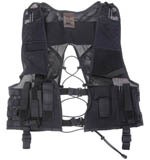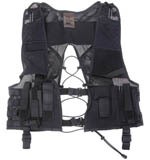 Covert equipment vest Black / Dold utrustningsväst Svart , STAT no.: 62032310
Description
Carry all the equipment you need concealed under your jacket.

When you have a break remove the vest with all your equipment intact and relax.
Put it on again and know that you have everything you need.
Adjustable in size with an elastic string for comfort
Channels for radio wires on the back and front.
Compartment for an ear piece on the top front.
Two Velcro closures on the front to sit tight when fully loaded. Can be pushed into the vest to be hidden. Adjustable in size with an elastic back for comfort.
Inside compartment with zipper. Specialized compartments for: pistol, one to two radios, collapsible baton, note book, pencils, mobile telephone with hands free, police badge holder, flash light, handcuffs and one place to attach any of our pouches you want.
Can be worn closed in the front or open for concealment when carried under an open jacket. Inside compartment
for a pistol on the left and right side. Trouser belt loop attachment in the bottom of the vest.
Velcro sign holder on the front and back.
The width can be adjusted 20 cm in the back in each size.
Sizes: Size 1 for smaller users, size 2 for most users, size 3 for big users
SVENSKA
 
Ett dolt bärsystem som gör er utrustning snabbt tillgänglig, som är bekväm att bära och säkert att använda.