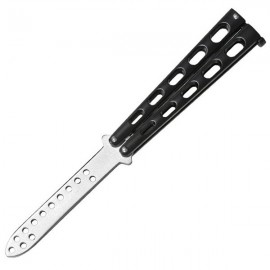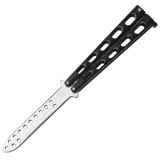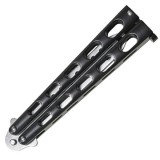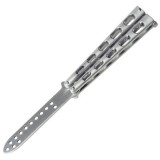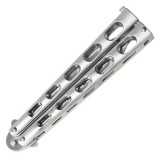 Balisong Trainer / Träning Butterflykniv STAT no.: 95069190
Description
 This is a dull, no edge, no sharp tip, Martial arts training tool, that looks like a knife for Krav-Maga, police / Security forces protection Training.
When training: Please wear eye protection and decent shoes!
Here are 5 reasons to start Training with a Balisong Trainer today:
1) A trainer is handy to flip before you have to do something important. - Don't cut your hands before driving, going to work, a meeting or while wearing nice clothes.
2) A trainer is a great way to predict a knife's handling before going live. - Can reduce the rate of injury for certain tricks, and power aerials.
3) A trainer is LEGAL! You can flip a trainer anywhere (though use caution as it still looks like a real knife). Aside from state laws, a trainer can also be used where knives are otherwise prohibited or under Certain workplace restrictions etc.
4) A trainer is safer to flip around people, pets, and other objects you might not otherwise want to injure or damage. - If you're traveling this might be the better knife to bring to someone else's house to play with - or a hotel room where you are responsible for eventual damages.
5) A Trainer is a great way to get friends and start flipping! - No one is going to try on a live blade. But with a trainer, they will be curious once you take away the danger and fear factor. This might encourage them to continue to flip with a trainer and maybe one day try a live blade.
Blade length: 4.00 inch. -training blade, cannot be re-sharpen!
Overall length: 9.00 inch.
Closed length: 5.25 inch.
Material: stainless steel
SVENSKA
Balisong butterfly träningskniv av fabrikat GenPro för realistisk träning (exempel Krav maga) utan skador. Ser ut och fungerar som en riktig butterflykniv men utan egg och spets.
Handgjord och av utmärkt kvalité. Svart eller Stål färg. Observera att bladet på kniven ej kan slipas.
OBS: kniven är en slitvara - tränar du ofta så behöver du köpa ny kniv då och då. Kniven tål inte att tappas hur många gånger som helst utan att gå sönder till slut.
Tränings Butteflykniven omfattas INTE av lagen om farliga föremål eftersom den klassas som träningsredskap eller leksak
Info om knivlagen: https://polisen.se/Lagar-och-regler/Vapen/Knivar-med-mera/